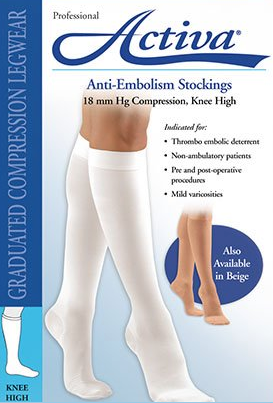 Custom Fit Compression Stockings for Your Comfort
Improve blood flow in your arms and legs with our quality compression hosiery.
Compression hosiery doesn't have to be ugly. And it doesn't have to be constricting. Our team will help you find the right style and fit from our top-name brands and styles we have available. You'll have a lot of options to pick from, including Medi, Jobst, and Ted hosiery. Pick the right stockings that go with any outfit.
We have two experienced fitting specialists as part of the staff to fit you with the right stocking, compression, and size. We offer a wide variety of compression stockings of different lengths and sizes. You'll appreciate that our fitting specialists will take the time to properly measure you and apply their wisdom to find you the right fit.
Custom garments are also available (some may require a prescription).
Learn More About JOBST® Opaque Hosiery
JOBST® Opaque hosiery is designed to look and feel just like elegant opaque legwear. Softness, ease-of-donning, and a lightweight design are core attributes of JOBST® Opaque, making this gradient compression stocking ideal for any occasion.
Breathable opaque texture provides a flawless finish while concealing blemishes
All-day comfort knee band secures fit and improves wearing comfort
Silicone dot thigh top band secures stocking in place
Wide waist band improves comfort and eliminates roll
JOBST® Advanced ComfortTM has a unique blend of yarns and finishes that keeps you cool and comfortable.
Types Available:
Jobst For Men 8-15
Jobst Opaque KH 15-20
Jobst Opaque Panty 15-20
Jobst Opaque Thigh 15-20